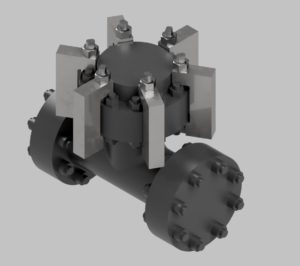 EngRx Strongbacking Design 
Strongbacking is a method of mechanical restraint deployed to resist separation forces that may arise in normal process operation and/or during the on-line leak sealing process.
Strongbacking foremost prevents catastrophic failure of pressure equipment. Secondarily, strongbacking adds assurance to maintaining the seal integrity of equipment and leak sealing enclosures, while also maintaining pipe/equipment position. Strongbacks may be used in any scenario with uncertain piping or equipment conditions which include but are not limited to; casing flaws, cracked welds, pinholes in the weld, undercut of the weld, bolting that has been weakened, screwed threads are too deep, and weakened threads. There are several Strongbacking methods available and each method has its own features, limitations and considerations. The use of Strongbacks helps eliminate unsound situations, greatly improves the safety of the Leak Sealing Technician, and helps ensure successful job completion.
There have been many incidents over the years regarding pressure equipment failure that likely could have been prevented with adequately engineered and properly deployed strongbacking. Some of these events have involved the weakened integrity of bolting and other means of mechanical closure. It is not always apparent whether bolting is subjected to SCC (Stress Corrosion Cracking). It is advisable to use strongbacking when pressure equipment has the potential to be of questionable quality. EngRx has years of experience in the engineering and the proper installation of Strongbacking.